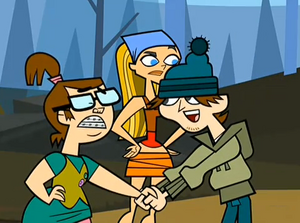 This article describes the interactions between Beth and Ezekiel.
Beth and Ezekiel really hit it off as friends on the second official day, starting at right before the second challenge started. As both were early risers, they were always up and more alert than the others, thus talking to each other and sharing stories. The two also confided in each other over subjects, such as dating, dreams, and friends.
While both were distracted by the ones they were dating, and the wild going-ons, the two didn't have much of a chance to interact. However, before her elimination, Beth met up with Ezekiel and the two talked and joked like they did during TDC.
The pairing name for the two is Ezeketh, or Bezeke.
Both grew up on farms, Beth a pig farm and Ezekiel an apple farm.
Both are finalists, Beth in the official Total Drama Action and Ezekiel in Total Drama Comeback.
Ad blocker interference detected!
Wikia is a free-to-use site that makes money from advertising. We have a modified experience for viewers using ad blockers

Wikia is not accessible if you've made further modifications. Remove the custom ad blocker rule(s) and the page will load as expected.