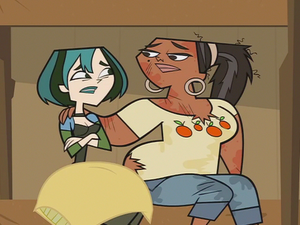 This article describes the interactions between
Gwen and Leshawna
.
The two bonded very quickly, both having a lot of sass and spirit. Leshawna helped Gwen out with her relationship with Trent, good and bad, and watched over her like a big sister. When Leshawna was unfairly eliminated from the game, Gwen was very upset and brooded, to which Heather mocked her.
Gwen and Leshawna were glad to see each other again, and immediately starting working together whenever they could. Even when not on the same team, they watched over each other, never wanting any harm to come to the other.
Harold managed to bond with Gwen a little, just by relating to her how much they liked Leshawna.
By the fourth challenge, when it came down to Leshawna or Heather leaving, most everyone, Gwen and Harold most of all, was shocked to see Leshawna go. This greatly upset Gwen, who considered it just as unfair as her friend's elimination last season.
Leshawna and Gwen were eventually reunited on Playa De Losers, also with their respective boyfriends, and enjoyed themselves a lot more than the show would.
Although Gwen and Leshawna are still good friends, the goth girl started off the show in a foul mood that seemed to never go away. Leshawna immediately became concerned for her best friend, and tried to get others to help her find out what was wrong with Gwen. When the goth girl was in a good mood at times, she would get along just fine with others, but was a complete dragon when upset.
Leshawna has not given up on trying to help Gwen, and to find out what is bothering her, but Gwen refuses to share her problems with Leshawna, arguing that "she wouldn't understand".
Theirs is one of the most classic and close friendships in all of TD.
Both are friends with Bridgette, and get along with the other's boyfriend.
Ad blocker interference detected!
Wikia is a free-to-use site that makes money from advertising. We have a modified experience for viewers using ad blockers

Wikia is not accessible if you've made further modifications. Remove the custom ad blocker rule(s) and the page will load as expected.